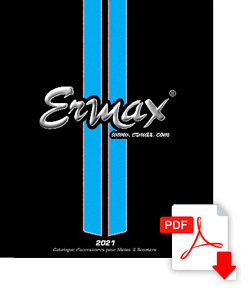 ROADSTER, TRAIL, SPORTS... WHICH ACCESSORIES FOR WHICH BIKE?
Discover or rediscover via these few lines the great motorcycle families and plunge into the world of Yamaha!
Roadster, trail, sporty, one of the most prestigious brands has developed and designed motorcycles suitable for each of these fields.
If you don't know which bike to choose or if you are made to ride a bike, these notions will probably guide you!
YAMAHA ROADSTERS MOTORCYCLES
The best feature of a so-called "roadster" motorcycle is the absence of a fairing. Roadster motorcycles provide the rider with strong sensations of acceleration, handling and nervousness. They are very aggressive and bring a certain well-being to their pilots. A derivative of the "roadster" is the "café racer" which takes up the style effects of old motorcycles. Coffee racer" has been in vogue in recent years.
Originally, they were intended for the city, but then this type of motorcycle was quickly used for road trips. However, the pilot is tired of the lack of fairing because he is not protected from wind, bad weather, cold or snow.
Among the Yamaha brand's motorcycles, the MT 125 2014/2019, MT 03 2016/2019, FZS 600 FAZER 1998/2001, FZ6N / FZ6 S2 2004/2010, XJ 600 DIVERSION 1996/2001, MT-07 / FZ-07 2014/2017 or XSR 700 2016/2019 are the best known for their superb style and comfort.
The MT 125 2014/2019 is renowned for its beautiful side scoops, LED position and tail lights and sports bar rims!
To make you enjoy these beautiful bikes, Ermax offers parts, accessories and equipment that are just as modern and of superior quality.
For more comfort, you can easily find your nose screen or high protection screen.
In the event of a failure or breakage of the indicators, you can also order LED blinkers safely on our website and receive them within a few days only!
TRAIL MOTORCYCLES
The XT 660 R 2004/2016 looks good and keeps evolving, it seems to be back for another decade! In fact, the first Yamaha XT was created in 1976.
The so-called "trail" motorcycles are used both on the road and on the road. This category is more or less similar to enduro or cross country bikes. Trails were introduced in the late 1970s.
Their similarities with cross country bikes stop when you notice that their equipment allows them to travel easily on the road. Their prices remain reasonable depending on the models...
YAMAHA SPORT BIKES
The TZR 50 (1998-2002 and 2003-2017), the YZF R6 1999/2002, the YZF 125 R 2015/2018 or the YZF R3 2015/2019 are models of the Yamaha brand well known for their "sport" aspect.
Sports motorcycles are the derivatives of the motorcycles used in speed competition. Their small size and light weight compared to a motorcycle called "road" give them the possibility to accelerate faster and gain speed so fast!
These bikes are moderately comfortable and at low speed, they are difficult to handle.
If you choose a sporty motorcycle, you should be very careful not to overuse the easy-to-use speeds. Indeed, the highway code does not really allow a sporty driving, in France.
A LITTLE BIT OF HISTORY ON THE YAMAHA BRAND....
Founded in 1887 by Torakusu Yamaha, Yamaha Organ Manufacturing was founded in Hamamatsu. Torakusu Yamaha, born in 1851, is an apprentice at a clock manufacturer before becoming a medical equipment professional. He was then called upon to repair an organ. It was at this point that Yamaha became a famous brand of musical instruments.


Selling cheap Ermax accessories for motorcycle Yamaha
motorcycle enthusiasts are also interested in these customization accessories: