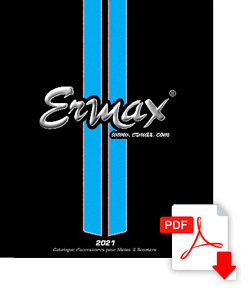 Triumph roadsters


The brand has only a few modern roadsters to its credit : the
Street Triple R
, legendary Triumph sports roadster inspired by the no less legendary Daytona, is recognizable with its two rounded optics (or oval, inspired by those of the Speed Triple, depending on the version), its two up exhausts and of course
its famous three-cylinder whistling engine
. Also recognized for its chassis, also derived from the Daytona 675, which is very effective and inspiring confidence.
But Triumph has not seen fit to stop there with
the Speed Triple
, even more powerful : with
150 horsepower to distribute
, 10 500 rpm maximum speed, disconnectable ABS, an enhanced gearbox, 4 driving modes, TFT color edge screen ... All the ingredients of an
excellent machine
. But as we do not change a team that wins, we keep the three cylinders and the frame of the Daytona, who have made and will continue for a long time to make the success of Hinckley roadsters. To sublimate this motorbike,
Ermax offers among other things a nose fairing and a belly pan
, both
fully customizable and adaptable
to your Speed Triple.
If you prefer vintage motorcycles with a more old-school look, you can turn to the sublime 1200 Bonneville T120, deliciously vintage, the 1200 Scrambler, at home on and off the road, the 1200 Thruxton, one of the best cafe-racer equipped with a hearty twin engine, or the 900 Street Cup, with their assertive and cafe-racer style. Whatever your choice, whether you are retro or modern, you will be stylish when riding a Triumph.
If your bike is not in the list, do not panic : check our
list of universal accessories adaptable on all models of motorcycles
.
GT and Custom / Bobbers


The famous British manufacturer gives pride of place to bobbers, pleasure bikes first made to cruise quietly while having a certain class and a real biker look. Among the most popular, the 1200 Bonneville Bobber or the 1200 Speedmaster. With their
twin engine and their look of hell
, these machines will make you
look like a British gentleman
. Although retro-minded, they are not reluctant to progress and are rich in electronics: ABS, anti-skid disconnectable, Ride-By-Wire accelerator, LED lights and turn signals, cruise control ...
Triumph has a gift to make the most of the old and the new
and bring the two together in a single machine.
In the Grand Touring category, we find the beautiful
Trophy 900
, which, even if it is no longer young,
still shines with its so british design
. For many, it remains
one of the best GT all brands
. Comfort, chassis, behavior, aesthetics ... we find all the DNA of Triumph in the Trophy:
the English charm, the so much appreciated 3 cylinders engine, equipment at the top level
make
the Trophy an excellent road bike. We offer for the Trophy a high protection Ermax screen that will improve your comfort and protection
on your bike.
The sports Triumph


With the 675 Daytona, Triumph demonstrated that it was not just a "cushy" brand.
Agile, powerful, aesthetically successful
, the Daytona has everything from a great sportbike. Although it is not as comfortable as the other categories Triumph,
its three-cylinder engine is here also doing wonders
. With its adjustable suspension, its an ultra-light weight (184 kilos in running order) and its disconnectable ABS,
it really shines on a track
. Although it is not equipped with the latest technological innovations (assisted traction control, injections mapping ...)
it promises its driver sensations never seen before
. Many professionals agree that it is
one of the most effective sportbike on the market
: On the Daytona,
everything is calibrated for performance
. And the R version is even more insane.
With the Daytona, Triumph proved to the world that they were still able to dominate sport on two wheels. If you want to embellish your machine even more, do not hesitate to order
the Aeromax screen for Daytona 675 2009/2012, which will be delivered with its grid
.
Tiger trails


With the Tiger series, Triumph proves that in this category too, the English brand knows how to do it. The 
Tiger 800
for example,
with its electronic accelerator ride-by-wire and its famous three-cylinder engine inherited from its cousins
, giving it
a consistent acceleration from 4000 rpm
. Once again, the
Triumph shines with its balanced chassis and its chain transmission
. Its
off-road mode
ensures a distribution of the ideal power on any type of terrain. To
increase your protection during your hikes, the high protection screen Ermax is ideal
.
Selling cheap Ermax accessories for motorcycle Triumph
motorcycle enthusiasts are also interested in these customization accessories: