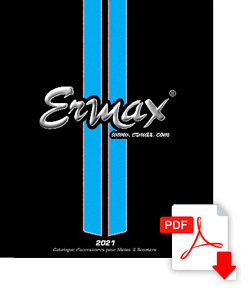 HONDA SCOOTERS: AS RELIABLE AND RENOWNED AS MOTORCYCLES
Honda enjoys an
undisputed reputation in the two-wheeler industry
: the manufacturer's machines are appreciated by all drivers for
their ease of maintenance, robustness, reliability and performance.
The least we can say is that scooters are no exception to the rule: whether it is with 
the PCX 125,
a city scooter of reference in Europe with more than 140,000 units sold, the
Forza 125,
the leading sales vehicle in its segment,

the Integra 750

, the best hybrid motorcycle/scooter
sold to date or 
the X-ADV

,
this true UFO that
shines by its versatility and the sensations it provides.Low maintenance
and
affordable for everyone,
Honda scooters are
economical to operate
and will not require you to have extensive mechanical knowledge to enjoy your machine.
HONDA AND THE TWO-WHEELERS: A LONG HISTORY
Honda is one of those brands that people's imaginations are made up of, whatever their origins or their attraction for two-wheelers: motorcycles or scooters, Honda has been
around for more than half a century
, and this is not new: already in the 1960s, Honda revolutionized the market with the
Super Cub,
the most
produced motor vehicle in history,
with over 100 million units produced in 2017. Few people have forgotten the famous slogan "You meet the most pleasant people on a Honda": this phrase sums up the spirit of the brand, which
aims to be accessible
and to bring people together.
No matter what your lifestyle or budget, you will always find a product that will
suit you and allow you to enjoy the joys of two-wheelers with ease.
ADVANCED TECHNOLOGIES FOR PILOTS
Honda has always been a
pioneer in the use and incorporation of new technologies,
whether in the automotive or two-wheel drive sectors, and the Scooter range is affected: the new
Forza 125
is equipped with
an "Idling Stop" system
that automatically stops the engine after a few seconds at idle and restarts it instantly, an
electric windscreen
that can be adjusted on the handlebars with a simple push of a button, or a "Smart Key" that unlocks the seat and starts the engine without having to remove the key. All this on a 125 cc machine!
The Integra has a
multi-function LCD screen
whose
colours can be changed by the pilot
, a dual-clutch DCT gearbox and an automatic or
manual transmission with handlebar gear changes, several driving modes
each offering different sensations... the list is long.
Finally,
the X-ADV
is not only a machine that
combines motorcycle, scooter and trail to perfection,
but also gives pride of place to the equipment:
HSTC traction control, special off-road G mode, aluminium swingarm, dual clutch transmission
inspired by the famous Africa Twin motorcycle... enough to walk the trails and tracks in complete tranquility.
Even the small
PCX 125
has its share of equipment, including
ABS braking
,
LED lighting, LCD display, triple-stiff progressive dampers,
Smart Power eSP engine
and
V-Matic continuously variable transmission
, all of which
guarantee performance and fuel efficiency.
THE CUSTOMIZATION OF HONDA SCOOTERS WITH ERMAX
Honda has the knack to bring out ever more innovative machines, closer to the public's expectations, and success is very often achieved. So why not improve
the look of your vehicle with different types of windshields, plate holders or other accessories?
For the Forza 125, we offer, for example,
a sports or high protection windscreen
, as well as a
undertray
. For the PCX 125 as well, we have
different types of windscreens: sport, original size, high protection...
it's up to you to make your choice by selecting the product (s) that best suit you!
Selling cheap Ermax accessories for scooter Honda scooter enthusiasts are also interested in these customization accessories: