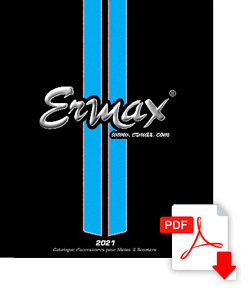 THE HONDA PCX 125 2018/2020 : THE BEST-SELLER UPDATED
Since 2010, the PCX 125 has conquered the hearts of urban dwellers thanks to several key factors: a quality design, an attractive design that is unanimously accepted, a very good price/quality ratio and a generous supply of equipment.

With nearly 140,000 units sold in nearly 10 years, it can be said without hesitation that the PCX 125 is a popular choice among the public. And it's not about to stop: in 2018, it was equipped with an ABS braking system, a refined design that gains in modernity, lightness thanks to new, lighter 8-spoke rims and chassis stiffness.

But that's not all: the 2018 version also comes with a slight power gain (0.3 kW), improved cooling and lower fuel consumption (2.1l/100km according to Honda) as well as various other small improvements.

THE ADVANTAGES OF PCX 125
If this scooter is so popular, it is because there are reasons for this: first of all, a favorable pricing (still under the 3000€ bar in 2018 despite its successive improvements).
Then, a state-of-the-art equipment that allows it to stand out from the competition: eSP limited friction engine, "Duplex" frame for excellent agility, fully digital instrumentation (LCD), "Idling Stop" system... Honda has made the challenge of high-tech at a reasonable price with the PCX 125: and it seems that it works!

Although he is not very comfortable on fast roads and highways (because his speed is limited and the absence of screens or windbreaks allows a fairly strong wind grip), in the city, he is on his own ground! Very manoeuvrable, it becomes child's play to slalom between vehicles.
If you want to improve your comfort on the highway and expressway, Ermax offers different types of windshields that are compatible with your Honda PCX 125 2018/2020.

IMPROVE YOUR COMFORT AND PROTECTION WITH ERMAX
Ermax offers, to equip your Honda PCX 125 2018/2020, a whole range of windscreens that adapt to your desires and needs: High Protection version, Sport or Original Size. You can even choose the shade of your windshield from our selection! Light, satin, smoky, dark hue... It's up to you.

Choose the windshield with the size that suits you best and enjoy the many advantages of installing a windshield on your machine!

EASY INSTALLATION AND ASSEMBLY
At Ermax, most of our parts and accessories come with a complete fixing kit and detailed assembly instructions so that you can enjoy your Ermax accessory simply and in record time.
Why not let yourself be tempted? Take advantage now of fast delivery and our secure payment system and order your Ermax scooter accessory for Honda PCX 125 2018/2020 !


Selling cheap Ermax accessories for scooter Honda PCX 125/150 2018/2020 (with ABS) Years of construction for this PCX 125/150 2018/2020 (with ABS) model of Honda scooter: 2018, 2019, 2020
Scooter tuning accessories for Honda PCX 125/150 2018/2019 (with ABS):
pcx abs 2019
ermax pcx 2018
scooter enthusiasts are also interested in these customization accessories: