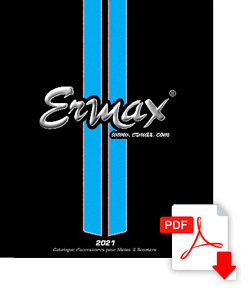 Kawasaki Roadsters
Roadsters are known to
combine pleasure, sportiness and economy
. Their
reasonable price
allows any amateur to acquire one, especially lovers of small thrills. The "cafe Racers", which resume the style of old motorcycles, have been in fashion for a few years now.
The roadsters motorcycles have
no fairing
and offer
impressive acceleration spurts
. They have
very powerful engines
. There are more and more so-called "sport" roadsters.
To combine this sensational side with the comfort side, since it is a means of transport, Ermax
offers accessories, parts and equipment
to improve your journey while giving a
modern look
, designed and customized to your machine!
Windshields, Aeromax screen, flashing lights, mudguards, plate holders, belly pans … The choices are many and varied.
Compatible types of motorcycles are just as numerous. You can easily find the
Z 300 2015/2016
, the
Z800/ Z800E 2013/2016
, the
Z900/ Z900E 2017/2019
... etc.
If your motorcycle is not on our list, do not hesitate to visit our category of
universal accessories and equipment
. You will find your happiness, since all these pieces are adaptable to any model of any brand!
Kawasaki « off-road » motorcycles or trail!


The trails at Kawaski combine quite well the advantages of roadsters (comfort, handling) and those of cross motorcycles (crossing capacity, off-track).
If you want to be in the city as in land, you will inevitably fall or have already fallen under the charm of the 
Versys X 300 2017/2019
or the
KLE 500 1992/1993
.
These trail motorcycles from Kawasaki are
very versatile
: it is easy to drive them on the road, on dirt or even on the grass and fields. These machines really go everywhere.
Especially on an all-terrain motorcycle, it is important to optimize its comfort: Ermax there also offers equipment and accessories to
increase your comfort
 but also to
dress your motorcycle
and give it a good style to you!
Sports at Kawasaki
The ZX-6, the ZX 7 or the Z 750 N (
2004/2006
and
2007/2012
) are sports bikes of Kawasaki. Renowned for their
aggressiveness
and ideal equipment for a competitive driving, these motorcycles offer their drivers
real thrills
as well as
light and flexible driving
.
The speeds are reached very quickly, but be careful not to abuse them! In some countries, the legislation imposes a power limiter.
The major disadvantage: sports motorcycles are not suitable for passenger or luggage carrying.
The history of the Kawasaki brand: from steel boats to motorcycles!
In 1878, Shozo Kawasaki built steel boats. Years later, the company made battleships during the war effort against Russia. Still in diversification, Kawasaki begins to manufacture engines, steam turbines, locomotives…
During World War II in Japan, all companies were requisitioned, including Kawasaki. The company was involved in the manufacture of 20,000 aircraft, 20 aircraft carriers, 30 battleships and 250 submarines!
Then came the Hiroshima and Nagasaki nuclear bombings, Japan surrendered and Kawasaki turned to other sectors. In 1953, the company exported its first motorcycles. Not being able to compete with Honda and other English or Italian brands, for lack of means, Kawasaki specializes in Supersport, Customs and Cross…
Selling cheap Ermax accessories for motorcycle Kawasaki
motorcycle enthusiasts are also interested in these customization accessories: