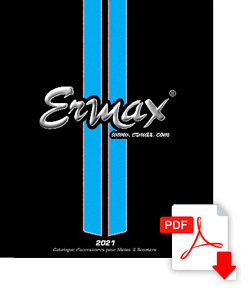 The Z800, the sports roadster of Kawasaki

Today, roadsters are becoming more and more sporty: the category of sports roadsters is in full boom. Aggressive, with very powerful engines, no fairing for more sensations… Fan thrill drivers are served with the Kawasaki Z800!

A rigid saddle, firm suspensions, demonic sensations and a good dose of adrenaline, and all of this for a contained price… In a few words, this is what the Kawasaki Z800 offers.

The Z800 remains particularly agile for a machine of its size and the position of the driver is pleasant!

In town, according to the professional pilots who tested it, the Z800 is quite pleasant to drive. But it is on the road that the sporty motorcycle roadster is awesome to drive.

This is to help you to get the most of your machine that Ermax has developed a wide range of products, accessories and equipment adapted to the Kawasaki Z800!

A futuristic presentation to complete with Ermax accessories!

Reminder of the Z on the saddle, reminder of the Z in the form of LED lights, mini-computer on board… The Z800 Kawasaki is aesthetically very attractive, very modern and futuristic.

However, it seems important to attach or install suitable accessories and equipment.

This is why Ermax offers both for your protection and to optimize the aesthetics of your motorcycle: a sports windshield, a rear mud-guard, a seat cowl, a belly pan and an undertray.

You will also be able to install certified blinkers (flashing lights), approved exhaust pots, aluminium screws, etc.

Lack of fairing on your motorcycle can cause severe turbulence, tire the pilot, not protect him from wind or bad weather… A windshield would not be surplus, especially if you often use your Z800 Kawasaki on the highway or on the motorway !


Delivery and installation tips for Ermax products

As for all Ermax accessories and equipment, you will receive when your order is delivered mounting kits if necessary, to help you and install your parts.

You will also have the opportunity to follow our explanatory notes in which safety standards are reminded to you in order to avoid unnecessary accidents or tickets.

All our accessories and equipment combine both aesthetic and safety.

Ermax wants to bring you comfort and modernity by offering products that are always more customizable and modern.
Selling cheap Ermax accessories for motorcycle Kawasaki Z 800 / Z 800 E 2013/2016
Years of construction for this Z 800 / Z 800 E 2013/2016 model of Kawasaki motorcycle: 2013, 2014, 2015, 2016
Motorcycle tuning accessories for Kawasaki Z 800 / Z 800 E 2013/2016:
ermax z800 2014
z800 ermax 2015
motorcycle enthusiasts are also interested in these customization accessories: