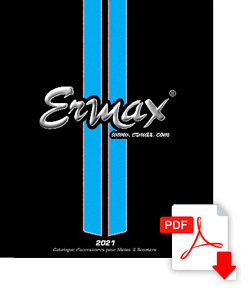 SUPERSPORT SCOOTERS AND MAXI YAMAHA SCOOTERS
In the Sport scooter category, the Tmax reigns supreme. When it was introduced in 2001, the equipment was basic: simple brake disc at the front, no carburettor and even less ABS. Since then, more than 200,000 scooters have been sold, and the Japanese brand has made progress. Today, the look is aggressive, the lines inspired by those of motorcycles (double curved LED headlamps, curved position lights) give the Tmax an ultra-sporting look. Equipped with a lightweight aluminum frame, its engine is attached to the chassis, and its long swing arm makes it recognized as the most sporty of the Maxi-Scooters. Also available in the DX version, the most luxurious and richly equipped and in the SX version, for an even more sporty look. Whether for the Tmax DX or the Tmax SX 2017/2019, Ermax offers a wide range of parts and accessories, from rear hugger to belt covers, wheel arches and hypersport windshields. Would you like to further customize your Tmax 530? Ermax has developed in partnership with Ludovic Lazareth a hyper modified fairing kit. Made of ABS, it is delivered with all the necessary assembly. Of course, all the equipment is approved.
Are you looking for even more style or do you find the Tmax too banal? Take a look at the Xmax. Versatility and dynamism are the key words here. Available in 125cc, 250cc, 300cc or 400cc, there is something for everyone.
URBAN SCOOTERS
If the large Tmax and Xmax are too big for you, the Majesty S or Nmax can do the trick. More designed for a purely urban practice, they will quickly make you forget the hassle of the city and the delay due to traffic jams. With their light weight, they are easy to manoeuvre and you won't have to worry about parking. Forget the little morning round which consists in searching for hours for a parking space. With these scooters, you can fully enjoy the urban space. Do you own or intend to acquire a Nmax 125/155 2015/2019 in the near future? Choose a customisable Ermax sports or touring windscreen, available in a choice of colours and customisable with a wide range of highly designed screen prints.
Yamaha has also thought of those who are afraid of two-wheelers: with the Tricity 125/155, which you can equip with a sports windscreen or Ermax high protection, combine the mobility of a scooter with the stability of three wheels. Agile, lively and reassuring, it responds well despite its difference, it finds its place in heavy traffic.
THE HISTORY OF YAMAHA
Yamaha is a Japanese firm founded on October 9, 1887 by Torakusu Yamaha. Although today the company is present in many fields, its main activity was the manufacture of musical instruments. Since the Second World War, its activity has diversified and it now produces motorcycles, scooters, water scooters, snowmobiles, motors, integrated circuits and all kinds of electronic devices.
It was in 1955 that Yamaha Motor made its first motorcycle, the 125 YA-1, largely inspired by the German DKW RT 125 released in 1939. Specialist in 2-stroke engines, the brand is immediately known for the reliability and vivacity of the machines it produces.
The brand would later maintain this reputation by winning several titles in competition. In 1998, Yamaha released the YZF-R1, recognized by many as the best bike of the decade
Selling cheap Ermax accessories for scooter Yamaha
Scooter tuning accessories for Yamaha:
yamaha scooter accessories
yamaha majesty 400 accessories
scooter enthusiasts are also interested in these customization accessories: