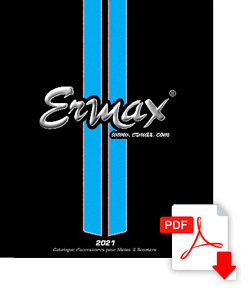 THE YAMAHA TMAX 530 OR THE KING OF THE MAXI-SCOOTERS


When Yamaha launched the Tmax 500 in 2001, the Japanese brand probably had no idea what kind of cardboard this innovative machine would produce. Thus, for 10 years, Yamaha has gained 65% of the market share in the maxi-scooter segment. And this success is not without reason: powerful, coupleous, handy and lightweight, the Yamaha Tmax has quickly established itself as the bestseller in its class. With more than 250,000 units sold since its launch, its direct competitors Suzuki and BMW are struggling to match it.
It was in 2012 that the Tmax underwent a major technical evolution, in particular with an increase in the bore, which increased the engine capacity by 30 cm3 to reach a peak of 530 cm3. Power reaches 46.5 horsepower at 6750 rpm. It is also this vintage that has seen the appearance of exclusive series such as the sublime Bronze Max (with a beautiful satin brown paint).

A WEAPON FOR THE ROAD
In addition to the purely mechanical part, the look of the machine has a lot to do with it: with an ultra aggressive style reminiscent of that of the brand's sports cars (front light from the R6, rear light copied from the R1) and a boomerang signature (highlighted with LED lights), it leaves no one indifferent.
Finally, its stability at high speed (180 km/h top speed) and the ease with which it can be manoeuvred in town (pulling up car lanes is child's play) make this scooter a real pleasure to ride. Some will even say that it makes you stupid because it is so fun and playful. Watch your points!
The 2015 vintage even sees the appearance of innovations such as keyless start and radial brake calipers (as for sports bikes). A first on a scooter!

ERMAX ACCESSORIES AND EQUIPMENT FOR YAMAHA TMAX 530 2012/2016
No, tuning and personalization is not only for motorcycles: for scooters too, there are many options and accessories available that will improve the appearance of your machine.
It is only natural that Ermax should offer accessories, parts and equipment for the Yamaha Tmax 530. We offer in particular a hyper sports windscreen, a sports windscreen, an original size windscreen, a rear hugger (also available in EVO version), a undertray and a customised front panel for the 2015/2016 version. These accessories are specially designed and engineered for the Yamaha Tmax 530 2012/2016: they are lightweight, robust and some are even customizable with unique colors and shades, including the original Yamaha colors.
If you want even more, you can take a look at the Ermax hyper-modified Lazareth kit to give your scooter a whole new look and set yourself apart.
You will also find various small accessories such as approved LED equipment, mirrors, aluminium screws, etc...
So, tempted? Order your Ermax accessories now and make your T max 530 2012/2016 even more sporty and stylish!




Selling cheap Ermax accessories for scooter Yamaha T MAX 530 2012/2016

Years of construction for this T MAX 530 2012/2016 model of Yamaha scooter: 2012, 2013, 2014, 2015, 2016
Scooter tuning accessories for Yamaha T MAX 530 2012/2016:

ermax tmax 530 2015
yamaha tmax 530 accessories 2013
scooter enthusiasts are also interested in these customization accessories: