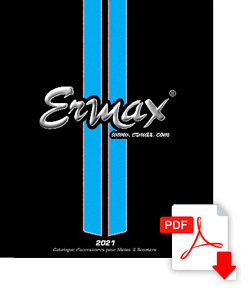 OPTIMIZE YOUR MT-07 WITH THE ERMAX NOSE SCREEN

Ermax is one of the leading manufacturers of motorcycle accessories. We offer a very wide range of bubbles, nose screens, windbreaks, mudguards, wheel wells, engine shoes and others...
Our accessories and equipment for the Yamaha MT-07 are perfectly adapted to your machine and will improve your comfort and protection!
From its 40 years of experience, Ermax has diversified its skills and know-how! Ermax has an international reputation in the design and manufacture of windscreen, so it is only natural that we offer  nose screens for sale for the Yamaha MT-07.
It is important to specify that a "touring", "high protection" or "Aeromax" screen has the same essential role as a nose screen: to optimize the penetration of your bike into the air and protect the rider from wind and bad weather (rain, snow, hail...) but also from debris and other projectiles present on the road (stones,...)

THE ERMAX NOSE SCREEN FOR YAMAHA MT-07
The Ermax nose screen for Yamaha MT-07 will provide you with additional protection and maximum aerodynamic penetration for your bike. Manufactured with all our know-how, it will allow you to keep the sporty look you love at the front of the MT-07 while significantly increasing your protection.
The main role of a nose creen is to limit the motorcycle's wind blast at medium or high speed and thus reduce turbulence, as well as screen!
The Ermax nose screen for the MT-07 combines comfort and style: it protects you from the weather conditions while giving your bike a certain style.
The nose screen (also known as a windscreen) is up to about 40 cm high. Both sporty and urban, this nose screen will give you a unique look and greatly improve the appearance of your MT-07.

A FULLY CUSTOMIZABLE NOSE SCREEN!
The Ermax nose screen is perfect for motorcyclists who want to keep the sporty and aggressive look of the MT-07 at all costs.
Its design aspect can be optimized with exclusive Ermax options for even more style!
We offer several visual options for our windscreen: colourless, smoked, satin, purple, blue, yellow... and we deliver it to you with an ABS support and a suitable fixing kit!
Combine sportiness and elegance and get on your MT-07 with apparence and style! And thank to the Ermax nose screen, you can enjoy a nose screen with materials that are resistant to road hazards!

MAINTAIN YOUR NOSE SCREEN!
To maintain the nose screen of your MT-07, nothing could be easier! The maintenance procedure for your nose screen is the same as for any type of screen!
All you need for cleaning is a cotton cloth, soap and water. With this, you will avoid any scratches on your nose screen. It is strongly discouraged to dry clean and rub your nosescreen: it would only take a few seconds to damage it.
Maintaining your nose screen is a crucial point not to be neglected: on the one hand to preserve your room, but also and especially your protection! Ermax quality is recognized worldwide by the world's leading dealers and pilots!

for motorcycle
motorcycle enthusiasts are also interested in these customization accessories: