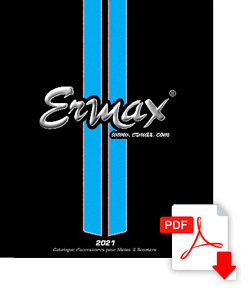 ---
---
ERMAX LED INDICATORS OR ERMAX BLINKERS
Have you installed a plate holder? An under tray? Or did you simply want to change your traditional indicators for a more trendy, "city", sporty look?
Discover Ermax LED indicators and our reduced prices!
APPROVED BLINKERS FOR OPTIMAL SAFETY!
Ermax offers approved LED indicators that will transform your motorcycle and give it a much more modern look while ensuring your maximum safety.
The time for round and traditional indicators is over. From now on, you will be able to radically change the aesthetics of your machine by choosing approved blinkers E11 and E4.
Our accessories are universal and can be adapted to all brands and models.
Yamaha, Kawasaki, Triumph or Honda... LED indicators are the ultimate safety devices for your bike.
HOW TO CHOOSE THE RIGHT INDICATORS?
Ermax offers many blinkers in various forms. The shape does not interfere with the proper functioning of the indicator. It's really a matter of taste, so enjoy yourself!
You need to be more careful when you order your LED indicators. If you are considering replacing your traditional indicators, it is also important to  purchase an Indy Spacer. This accessory will allow you to hide the holes of the original indicators.
Also if your original flasher is not compatible with blinkers or LED indicators, you will have the possibility to acquire a compatible flasher at a lower cost.
Also, too fast flashing can damage the flasher and therefore deprive the use of indicators. To avoid any contravention or damage to your motorcycle's flasher, Ermax offers an easy-to-install resistance at a very reasonable price. Count two resistors for two indicators. It will reduce the flashing speed.
Here some points to check when you choose are as follows:
* Verification of the current supplied by your flasher
* Check the compatibility of the indicators you want with your motorcycle's flasher
* Choose approved indicators (for your safety and in case of law enforcement control)
* Plan to purchase a relay if the flashing is too fast
REPEATERS FOR AN EVEN MORE MODERN LOOK!
For an even more modern look and for a real transformation of your bike, Ermax offers repeaters.
These accessories can easily be mounted on your motorcycle and can be combined with your original indicators or blinkers.
Each Ermax product is designed to provide the rider with optimal safety and the bike with more modernity and style!

Selling cheap accessories for motorcycle
tuning accessories:
led blinkers
indicator blinker
motorcycle enthusiasts are also interested in these customization accessories: