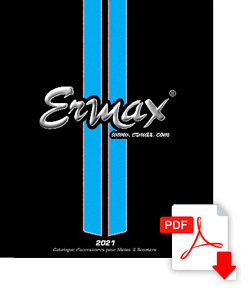 YAMAHA TMAX DX AND TMAX SX 2017/2019 : YAMAHA RELEASES THE BIG GAME

Yamaha has found the right vein with the Tmax: after 15 years of marketing, there were more than 233,300 Tmax registrations for all generations combined. In 2017, Yamaha decided to drive the nail in the coffin by trying to further expand its fan base by offering the Tmax in 3 different versions: Tmax, Tmax SX (sport version) and Tmax DX (luxury version). The three models have the same technical basis (chassis, engine, transmission) but differ in terms of the equipment offered and the colours available.

Here is a brief overview of their respective specificities:

- Standard Tmax: Compared to the old version, there are many additions and improvements, both aesthetically and mechanically. The core remains unchanged: a 530cc, 45 horsepower, in-line, twin-cylinder engine with automatic transmission and liquid cooling, this time upgraded to Euro 4 standards. The engine is now electronically managed thanks to the YCC-T (Yamaha Chip Controlled Throttle) which offers better performance and fuel economy. For more dynamic acceleration, this new version is equipped with a new carbon fibre belt. The weight has been reduced since the unit is 9 kg lighter thanks to new low friction tires, a modification of the rear shock absorber and an aluminum alloy frame. This new frame also increases the volume of the trunk under the seat, which can now contain jet-to-shield helmets, a trunk that has also become more accommodating.

Also included is a USB and 12V socket, a TGT multifunction display and a keyless start system. Other new features include a central stand locking system and Traction Control system for added safety. Finally, the machine's design has undergone a slight facelift, making its appearance more modern, almost avant-garde.


- Tmax SX : the SX has all the advantages and features of the standard Tmax. It also offers its rider the possibility to choose between different driving modes: T-Mode (Town) or S-Mode (sport) impacting on the overall dynamism of the scooter. If you choose the SX, you will also benefit from compatibility with the mobile application MyTMAX Connect, which allows you to geolocate your scooter in real time by GPS or to operate your machine's horn or headlights remotely. A real "plus" against thieves! Finally, it should be noted that there is an exclusive paint and more careful finishing.


- Tmax DX: a true flagship of the Tmax family, it also benefits from exclusive colours and finishes and includes everything that the SX is equipped with. It adds a cruise control, an electrically adjustable screen as on its competitor, the Honda Forza, heated handles and seats and finally an adjustable rear suspension. It's simple: the Tmax DX is simply one of the scooters, if not THE richest equipped scooter on the market today.

ERMAX OFFERS SEVERAL ACCESSORIES TO EQUIP YOUR YAMAHA TMAX DX/TMAX SX 2017/2019

When you own one of these wonderful machines, you can't miss the opportunity to make it your own, with unique equipment that enhances both protection and sportiness. Take the Ermax hypersport windshield: it promotes aerodynamics and gives a truly racing look to the scooter. The high windscreen will protect you when you travel on the highway or during your trips in the countryside, or in rainy weather. Would you like to further customize your Yamaha Tmax SX/DX? Choose the undertray, rear hugger or Ermax seat cowl !

Don't worry about the installation: we will provide you with a fixing kit and assembly instructions with most accessories. Consult customer reviews and make your own review!

Selling cheap Ermax accessories for scooter Yamaha T MAX DX / SX 2017/2019
Years of construction for this T MAX DX / SX 2017/2019 model of Yamaha scooter: 2017, 2018, 2019
Scooter tuning accessories for Yamaha T MAX DX / SX 2017/2019:
tmax dx accessories 2018
accessori t max 500 2019
x adv vs 2018 2017
tmax sx 2018
tmax accessories 2019
ermax tmax 2017
scooter enthusiasts are also interested in these customization accessories: