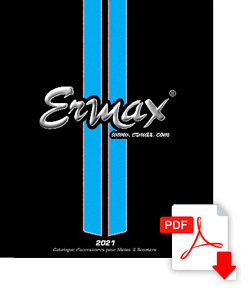 THE YAMAHA N-MAX 125/155 2015/2020 : THE PERFECT COMBINATION OF AESTHETICS, ERGONOMICS AND SPORTSMANSHIP
In direct competition with the Honda PCX, the Yamaha N-Max entered the market in 2015.

On the practical side, it has integrated indicators at the rear, a functional LCD dashboard equipped with multiple features: watch, double trip, graduated fuel gauge, average and instantaneous consumption, temperature indicator or alert for belt change. Its well positioned seat, suitable for all sizes, ensures perfect support for both rider and passenger.

In the apron, the space reserved for the feet is spacious enough to maintain optimal comfort in all circumstances.

Equipped with a trunk under the seat, your full face helmet will easily find its place there. You can also put extra small items with your helmet or in the inner apron.

A DEVASTATING LOOK SPECIFIC TO YAMAHA
The N-Max adopts a slim and very sporty design. Its neat finishes, aggressive two-tone look, aerodynamic lines, wide and short front fairing, low screen and rear handlebars are just some of the aesthetic features that affirm the undeniably fierce style of the Max range.

To increase the aerodynamics of your N-Max, you can choose a short windscreen for a sportier look, or a high windscreen for better protection. Ermax offers a wide range of windshields that allow you to customize your scooter to your liking.

A SMOOTH AND SPORTY RIDE
The contained dimensions as well as the reduced weight of the scooter reveal an excellent turning radius, allowing it to evolve easily in an urban environment. In addition, the Japanese company offers on its N-Max a very good compact, worked, healthy and even player chassis, which offers the driver a sporty ride.

With variable valve timing and a cooling radiator, the maxi-scooter is modern. Its 125cc Blue Core engine from the Japanese Yamaha workshops is proving to be quite successful, particularly available and lively. Variable valve timing allows this new engine to be as efficient at high and low revs, with low fuel consumption per litre. In addition, its suspensions, its safe cycle part and its smooth ride represent considerable advantages for this single-cylinder engine.

For even more comfortable driving, the single-cylinder engine is equipped with excellent Dunlop ScootSmart tires and 13-inch lightweight aluminum wheels. In addition, the N-Max is equipped with ABS as standard.

THE YAMAHA N-MAX: A SURPRISING SCOOTER THAT STANDS OUT FROM THE COMPETITION
Heading, agility, sportiness, precise placement, successful chassis, high-performance and pleasant engine, healthy braking, technical performance and reasonable fuel consumption... the Yamaha N-Max 125/155 2015/2020 is suitable for intense urban use. Easy to handle and offering very good mechanical features, it makes it possible to make the city a real playground and driving a pleasure.

To give an extra sporty touch or to gain protection, Ermax offers a series of high or short windscreens designed for your Yamaha N-Max.
As with most of our equipment, you will receive with your order a fixing kit and assembly instructions

Selling cheap Ermax accessories for scooter Yamaha N MAX 125/155 2015/2020
Years of construction for this N MAX 125/155 2015/2020 model of Yamaha scooter: 2015, 2016, 2017, 2018, 2019, 2020
Scooter tuning accessories for Yamaha N MAX 125/155 2015/2020:
Scooter enthusiasts are also interested in these customization accessories: