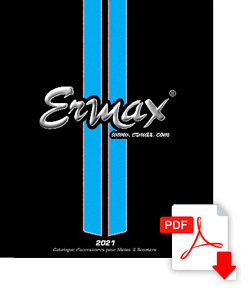 The Kawasaki Er6-n : one of the most sold motorscycles ever

Produced by the Japanese manufacturer Kasawaki, the ER6-N is one of the French's favorite motorcycles. Sporty, cheerful and at an attractive price, it attracts a considerable number of «new-licenses» motorcycles.
You will have understood, this little roadster does not leave indifferent. Combining pleasure, sportiness and economy, it gives its drivers a taste for thrills through its impressive acceleration spurges. Its engine is very powerful.
It is therefore quite natural that Ermax helps you to customize your ER6-N for even more aggressiveness and design!
Windshield, rear mud guard, plate bracket or saddle cowl… Discover our Ermax accessories and sublimate your roadster in a flash!


The success factors of the Er6-n

In-line bi-cylindrical motor with electronic injection and balancing shaft, located in a particularly ergonomic cycle part, adjustable handles, an adjustable tank, a two-level saddle, a fork head and flexible and docile mechanics…
The characteristics of the ER6-N are never taken lightly by Kawasaki as by the pilots. And because… Accessible to all and by all, the ER6-N is a jewelry of the Japanese builder, who keeps evolving and offering amateur or confirmed bikers a safe and powerful driving at the same time.
Powerful, light and endowed with a certain sex-appeal, the ER6-N is one of the most sold models by Kawasaki.


Customize your Er6-n with Ermax!

For more style or aggression, Ermax helps you to customize your ER6-N very easily.
Thanks to Speedmax, you have the opportunity to combine protection and design and optimize the superb features of the Kawasaki roadster.
For better driver protection as well as good air penetration, you will opt for the Ermax windshield with frontal air intakes. Made of PMMA (methacrylate) cast 3 mm thermoformed, this flagship accessory comes ready to mount with a matt black ABS bracket and a black screen print at the bottom. Of course, you choose the color of your choice from our wide range of colors. Ermax has also designed and created other accessories that are just as attractive and that will give your ER6-N a more sporty and personal touch!
Indeed, you have the possibility to order and receive within a very short time your plate holder, your rear mud-guard or even your superb seat cowl.
For each of the Ermax accessories for the ER6-N, you have the chance to choose the colors of your choice to sublimate your roadster!


Delivery and maintenance of accessories for Er6-n

The delivery of all Ermax accessories is carried out within very reasonable deadlines. In addition, for each accessory, you will receive on delivery a mounting kit as well as a mounting notice. Essential and well designed, they will allow you to install your new jewel in a flash!
For more information, you can contact us or consult many forums on which many amateur or professional drivers trust Ermax and help each other.
For the maintenance of Ermax accessories for the ER6-N, the rule is simple: a damp cloth, water and soap. With these elements, you will shine your roadster and keep your accessories.
Attention not to clean your windshield with front air intakes with a dry cloth or you might scratch it!
Selling cheap Ermax accessories for motorcycle Kawasaki ER 6 N 2012/2016
Years of construction for this ER 6 N 2012/2016 model of Kawasaki motorcycle: 2012, 2013, 2014, 2015, 2016
motorcycle enthusiasts are also interested in these customization accessories: