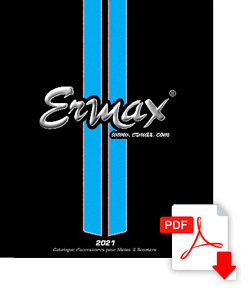 HONDA INTEGRA 750 2014/2020 : A ROAD SCOOTER THAT LOOKS LIKE A MOTORCYCLE
Honda's response to the Yamaha Tmax was not long in coming: with the Integra, Honda hopes to gain market share from the segment's star. After its evolution in 2014 with its passage to 750 cm3, the Honda Integra took the opportunity to equip itself with LED lighting at the front and rear, customizable instrumentation (it is possible to modify the colors of the tachometer bars among 9 colors to choose from), 100% digital and highly readable instrumentation.

Although it is not possible to store a helmet in the trunk of the vehicle, the Integra has technological innovations such as a very short, fingerprinted automotive-style ignition key, a mode selector (automatic or manual and drive or sport) on the handlebars, a DCT transmission (dual clutch) or + and - gear up and down triggers (which works even in automatic mode). Nothing to do with a classic variator that can be found in most current scooters, and the sensations feel like it!


PERFORMANCE, COMFORT AND SENSATIONS: THIS IS THE CREDO OF HONDA INTEGRA 750 2014/2020
Its 750 cc, 55 horsepower engine block meets Euro 4 standards and combines sportiness and fuel economy to perfection. Its sound is certainly not the most rewarding (although it has been revised and improved and now gives a deeper sound), but the twin-cylinder engine proves to be very pleasant, flexible in use while being very torquey: no need to push the engine very hard to get adrenaline!

A real pleasure on departmental roads and winding roads, thanks to its 17-inch wide tires, it takes corners easily and the pilot doesn't even have to worry about shifting gears once the automatic mode is activated. Braking also shines through its strength, progressiveness and dosability. It even has a parking brake. Its stability is also worth noting: it does not stumble, even above 130 km/h.

A scooter version of Honda's "NC" range (consisting of the NC 750 X for the Trail model and the NC 750 S for the Roadster), this hybrid is also well equipped, including an adjustable HTSC traction control system (from the 2018 version), a new Showa Dual Bending Valves fork and a "Special Edition" paint with a metallic finish. Real top-of-the-range!


ERMAX ACCESSORIES THAT WILL CUSTOMIZE YOUR INTEGRA 750 2014/2020
Thanks to its experience and know-how, Ermax is able to offer you quality accessories and parts for your Honda Integra 750 2014/2020 : high protection or sports windscreen, rear hugger, undertray with light or extenda fenda... You have the choice. Each of its accessories has multiple advantages: increased protection against projectiles, more sportiness, a more "racing" look. Ermax offers you the possibility to customize your machine as you wish!

So why not take advantage of it? Order your Ermax accessories and parts now and receive them at home in no time at all.
Selling cheap Ermax accessories for scooter Honda INTEGRA 750 2014/2020 Years of construction for this INTEGRA 750 2014/2020 model of Honda scooter: 2014, 2015, 2016, 2017, 2018, 2019, 2020
Scooter tuning accessories for Honda INTEGRA 750 2014/2020:
750 integra 2017
honda integra 750 2016
scooter enthusiasts are also interested in these customization accessories: