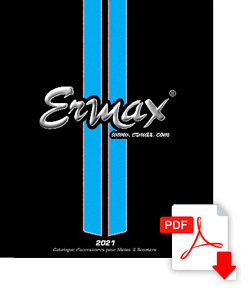 LE HONDA FORZA 125 2015/2018 : THE STAR OF THE GT SCOOTERS!

Launched in April 2015, the Honda Forza quickly found its place in the GT 125 scooter segment. He even succeeded in dethroning his great rival and compatriot, the Yahama X-Max. With nearly 5000 registrations and a continuous top sales position, Honda does not need to make any major changes to its miracle recipe.

Already in 2017, the Forza 125 has undergone major improvements: an engine equipped with the Euro 4 standard, the "Keyless" system, and, among other things, new mirrors. The 2019 version, on the other hand, has seen its front face modernised with full LED lighting (including turn signals), turn signals that are now integrated in the mirrors and a more dynamic and youthful overall shape.

The most notable change has been made for the pilot since the Forza 125 is now equipped with an electrically adjustable screen as standard since version 2018. In addition, the seat trunk has been enlarged and can now accommodate no less than 2 full-face helmets (11% increase compared to the previous version); the central screen of the dashboard is enlarged and more readable.


A 125 SCOOTER THAT IS COMFORTABLE IN TOWN AS WELL AS ON THE HIGHWAY

Thanks to its GT gauge, the Forza 125 is practical and pleasant to use on urban terrain and on expressways: its single cylinder block of 15 horsepower at 8750 rpm for a torque of 12.5 Nm at 8250 rpm, its compact size (2m14 in length and a seat height of 780 mm for a contained weight of 162 kg all full), its particularly short turning radius of 1m50 make it a machine at ease everywhere. Practical to avoid traffic jams!

And then, its tank can contain up to 11.5 litres of fuel, giving it a range of 425 km, making it almost a two-wheel sedan, without overusing fuel consumption, since it is only 2.7l/100 km.

In addition, equipped with a "start&stop" system that can be disconnected at will, a 12V socket and all the useful information displayed on the centre console (consumption indicators, temperature, battery voltage, time, fuel gauge, etc.), driving it is a real pleasure. It has everything you need to transform your home-to-work commute into a pleasant experience! However, be careful with the width of the mirrors when passing!


ERMAX ACCESSORIES FOR A FORZA 125 WITH EVEN MORE STYLE!

Ermax offers several parts and accessories for the Forza 125 2015/2018: different windscreens with different sizes and colours. Of course, you can choose the shade of your choice. With Ermax, you can customize your accessory as you wish from our range of colours.

We also offer an undertray, available in the official Honda colours and delivered with fixing kit and assembly instructions like most of our accessories. This will increase the sportiness of your machine.
Selling cheap Ermax accessories for scooter Honda FORZA 125 2015/2018


Years of construction for this FORZA 125 2015/2018 model of Honda scooter: 2015, 2016, 2017, 2018

Motorcyclists have also been looking for these years: 2019

Scooter tuning accessories for Honda FORZA 125 2015/2018:
honda forza 125 accessories 2017
scooter enthusiasts are also interested in these customization accessories: