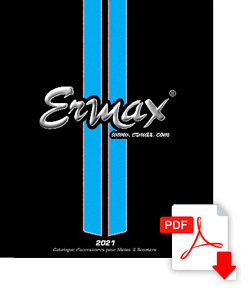 New MT-07 2018/2020 or the revival of the star

Since 2014, Yamaha MT-07 stood out as one of the most popular and most appreciated roadsters motorcycles by the market. After 4 years of good and faithful service, it well deserved a small face-lift: in 2018, Yamaha unveiled the new version of its so famous MT-07: a new saddle, refined regulations of fork, strengthened optics...the whole gives in one of flagship product of the Japanese brand a look even more time-adjusted in its century inspired by her big sister (MT-09) and a greater sportsmanship …
But feel reassured: everything having made the success of MT-07 first gen and what the pilots appreciate so much remain very present on this new version. So, we still have the futuristic digital meter, the drawing of the slender rear hull and this well-known design that mixes sportiness and elegance. Another thing appreciated by pilots, the 180 rear tire (wide diameter), wider than those of its competitors, distinguishes it. In short, Yamaha keeps the recipe that made the success of its flagship model without taking anything away from the charm of this archi-popular machine with bikers.


A powerful and comfortable roadster that secures beginners

One of the many reasons explaining the success of the Yamaha MT-07 is its road performance: equipped with the best weight/ power ratio of its class (72 hp for 401 lbs all made: for comparison, its direct competitor, the Honda CB650F weighs more than 441 lbs on the scale). Equipped with a 689 cm³ crossplane line bycilinder (offering a better torque distribution over the entire engine range, hence the MT name which is the abbreviation of Master of Torque), it is also the most coupling motorcycle in its class. Its 4-stroke water cooling engine has a maximum torque of 9000 rpm and gives the MT-07 a maximum speed of 118 mph.
Equipped with a revised damping system that significantly improves comfort compared to the previous version, two 282mm with 4 piston brake discs at the front and a 245mm brake disc at the rear, a steel tubular frame and the standard ABS, this lightweight motorcycle provides the pilot with maximum safety while remaining fun to operate thanks to its 68Nm of torque and its 6-gear box.


An economical bike that will take care of your wallet

The new MT-07 is approved to Euro4 standards and thus meets certain criteria in terms of pollution and fuel consumption. It has a range of about 174 miles and an average consumption of 5 liters for 62 miles. To top it all off, its price displayed is only £6349, which places it as one of the cheapest motorcycles in its category. There is no any reason to resist !


Ermax accessories and equipment for the new MT-07 2018/2020

In order to sublimate this magnificent MT-07, we offer a range of accessories and equipment that will perfect your machine, both aesthetically and in terms of performance. For example, we have a range of windshields, mud guard, SHARK exhaust line, seat cowl, belly pan… Most of these accessories are fully customizable: you have the choice of colors (from blue to red to satin blue or fluorescent yellow, there is something to suit all tastes). You even have the possibility to add silkscreen prints to some accessories (on screens and nose screens). Do not hesitate to consult our website to see directly the articles available in connection with your motorcycle, or to contact us directly for more information.



Selling cheap Ermax accessories for motorcycle Yamaha MT-07 / FZ-07 2018/2020
Years of construction for this MT-07 / FZ-07 2018/2020 model of Yamaha motorcycle: 2018, 2019,2020
Motorcycle tuning accessories for Yamaha MT-07 / FZ-07 2018/2020:
motorcycle enthusiasts are also interested in these customization accessories: