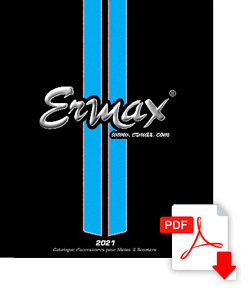 THE YAMAHA MT-125 2014/2019 : ON THE WAY TO OVERLOOK THE 125 CC MOTORCYCLE CATEGORY!
When it was released in 2014, the MT-125 had a mission: to dethrone the queen of the category, the one that revolutionized the genre, the KTM Duke 125. Indeed, in 2011, KTM has released a little bomb on the market: a great look, a dynamic part cycle, a generous equipment: this is the miracle recipe that made the Austrian's success and from which Yamaha was inspired.

This is how the MT-125 was born: targeting the same public as the KTM, it is based on the sporty YZF-R125, on itself inspired by the legendary R1. In other words, it leaves with good genetic attributes!


ALL THE BEST OF MT-07 CONDENSED INTO MT-125
The MT-125 2014/2019 is largely based on the MT-07, the best-selling motorcycle in France and acclaimed by many driving schools and riders, beginners or not, who are looking for a balanced, performance and accessible bike. Both heirs of the "Master of Torque" philosophy, they really only differ in their engines: two-cylinder for the MT-07 and single-cylinder for the MT-125.

The common points between these two machines are innumerable: virile and enhancing design (fluorescent colours available), mechanical design benefiting from a long know-how and a rich experience in competition... You will find on each of these machines many qualities that allow the Yamaha MT to be so appreciated by thepilots from all horizons.


SERVICES UP TO THE CHALLENGE THAT HELP MT-125 TO REACH THE TOP OF SALES AMONG THE ROADSTERS 125
The MT-125 2014/2019 stands out from its competitors with a more attractive size, a larger engine and an aluminium-reinforced swingarm. The belly pan also gives an impression of seriousness that is not to be underestimated. While the KTM and most of the competitors show their "organs", Yamaha has chosen to highlight the frame and fairing, which reassures and suggests less breakage in the event of an unfortunate fall of the bike.

Its dashboard, although of old design, is extremely readable and practical to use. Equipped with ABS (on the most recent models) and a 292 mm disc, pinched by a 4-piston radial caliper (a rare feature on a 125!), the pilot's safety is not put aside. The rear brake is both powerful and easy to measure.

The engine, on the other hand, offers good revs, especially from 6000 rpm where it fully exploits its potential! It is even possible, if the engine is pushed beyond 9000 rpm, to slightly exceed 130 km/h. Engine which, it must be said, offers a very bewitching sound for a 125 with a rather low and "metallic" sound. You'd almost feel like you're holding your big sister in your hands!


ERMAX ACCESSORIES AVAILABLE FOR THE YAMAHA MT-125 2014/2019
Ermax, with its long experience in the manufacture of parts and accessories for motorcycles and scooters, offers you a wide selection of additional equipment to enhance your MT-125.

Whether you want to customize your bike, give it an even more "racing" feel or simply increase your protection when you ride it, you will inevitably find one or more Ermax accessories to suit your needs: sports wind screen for increased aerodynamics, rear hugger, radiator scoops, seat cover and undertray for an extra touch of sportiness... You have the choice!

Not yet convinced? Feel free to consult the opinions of previous Ermax customers directly on the product sheets of the articles you are interested in or to ask us all your questions directly!

Selling cheap Ermax accessories for motorcycle Yamaha MT 125 2014/2019 Years of construction for this MT 125 2014/2019 model of Yamaha motorcycle: 2014, 2015, 2016, 2017, 2018, 2019

Motorcycle tuning accessories for Yamaha MT 125 2014/2019:
yamaha mt 125 accessories 2017
motorcycle enthusiasts are also interested in these customization accessories: