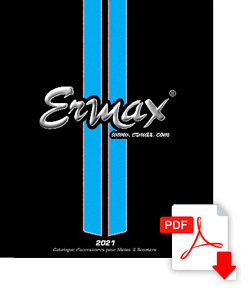 THE YAMAHA MT-03 2016/2019 : THE LITTLE ONE WHO PLAYS IN THE BIG LEAGUE
Its engine block is "only" 321 cm3, but that doesn't prevent this little bombinette from rising to the level of its predecessors.
Thanks to its assertive MT look, its elastic and very torquey engine from 4000 rpm from the famous YZF-R3, its very good turning radius and its flexibility of use combined with a more than correct comfort, this bike perfectly reflects the "Dark Side of Japan" dear to Yamaha.
Equipped with an ABS braking system, a 41mm KYB fork and a 35mm diameter tubular lattice frame, its cycle part is extremely efficient both in town and on the road.
With a top speed of nearly 180 km/h, a full 168 kg weight and a very reasonable price, it is one of the best price/performance ratios in its category.
Perfect for urban use with its easy and flexible covers, it is an ideal first bike for young city dwellers looking for sensations or who want to enjoy the joys of a sporty and reassuring bike.


A WORTHY REPRESENTATIVE OF THE MT FAMILY AND A CONCENTRATE OF YAMAHA
Yamaha has placed in the MT-03 everything that makes up the philosophy (and success) of its big sisters MT-07 and MT-09. Unfailing agility, a dynamic engine at low and high revs, decent equipment and comfort and a very attractive price.
Its biggest rival, the Kawasaki Z300, can certainly boast an advantageous physique, but according to many drivers, not such a powerful motor-suspension-brake combination.
The Yamaha YZF-R3, whose MT-03 incorporates a number of elements, is one of the best low-displacement sports cars. Built for the track, it offers itself the luxury, in addition to impressive aesthetics and aerodynamics, of holding its ground against more powerful competitors such as the Kawasaki Ninja 400 or the KTM RC 390. That says a lot about the spirit of the MT-03.


ERMAX ACCESSORIES DESIGNED TO ENHANCE YOUR YAMAHA MT-03
If you want to improve the look of your 2016/2019 Yamaha MT-03 or your protection when driving it, one of the easiest solutions is to order Ermax parts and accessories, which can be customized and adapted to the MT-03. For example, we offer a wind screen and a rear mudguard, both customizable in different colours.
These accessories not only have a decorative purpose (they will give your bike an even more stylish and sporty look), but they will also increase your protection and that of the bike against bad weather and various projections.
All our parts are designed to withstand the wear and tear of time: Ermax motorcycle and scooter parts are made of lightweight, durable materials and are used by the world's leading brands!
Some of our parts are also delivered with a fixing kit and detailed assembly instructions.


ULTRA-FAST DELIVERY AND A SIMPLIFIED ORDERING SYSTEM
When you order your Ermax part or accessory for your Yamaha MT-03, all you have to do is select your motorcycle model, the accessory(s) of your choice, your favourite colour and order. You will receive your piece directly at home in a few days!
The payment on our site is reliable and secure, your data is safe.
If you are still unsure or have any questions about one or more of our products, please do not hesitate to contact us directly or read the different opinions of other customers directly on the page of the product(s) in question! To know more about it
Selling cheap Ermax accessories for motorcycle Yamaha MT 03 2016/2019 Years of construction for this MT 03 2016/2019 model of Yamaha motorcycle: 2016, 2017, 2018, 2019
Motorcycle tuning accessories for Yamaha MT 03 2016/2019:

yamaha mt 03 accessories 2018
yamaha mt-03 accessories 2017
motorcycle enthusiasts are also interested in these customization accessories: