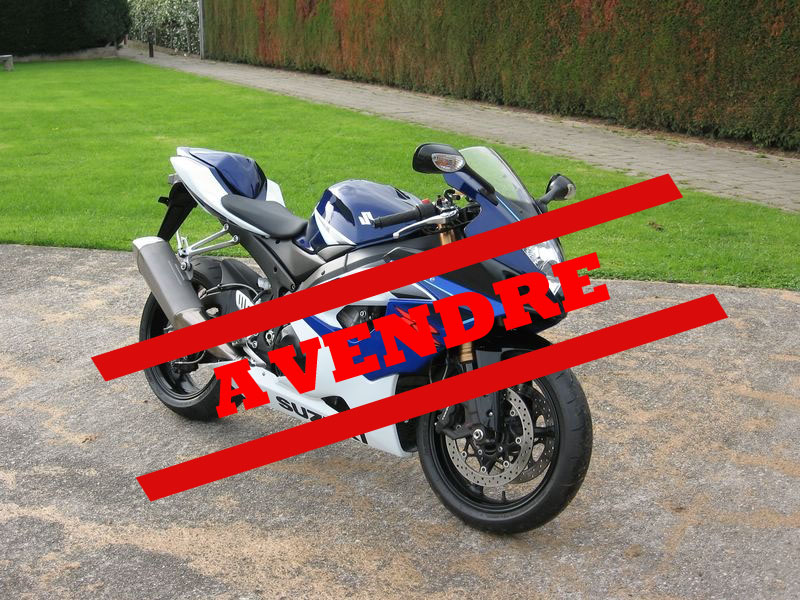 Selling a motorcycle or scooter can sometimes turn out to be a real way of life: what to choose between a professional or a classifieds site? What are the legal documents to be provided to the buyer? In general, what precautions should be taken and formalities respected?
We will try to give you 10 simple tips to apply and implement so that the sale of your machine is as successful as possible!


TIP N°1: DO NOT OVERESTIMATE THE PRICE OF YOUR EQUIPMENT
Selling your motorcycle or scooter is often a real heartbreak. It happens that some people, out of love for their machine, slightly overestimate the value of their property.

Even if you are very attached to it, don't forget that you must first and foremost be well positioned in the supply and demand market and that there are rules to follow if you want your vehicle to leave one day.

If you want an estimate of its price, look at its rating on La Centrale or the L'Office du Cycle or do a search to find similar models already on sale. This will give you a first estimate of the true price of your two-wheeler.

TIP N°2: HIGHLIGHT YOUR TWO-WHEELER

No matter to whom you sell your two-wheeler, it will tend to buy it from you at a better price if it looks like it's leaving the dealership or at least has been well maintained.

Take a little elbow grease and patience, and clean your machine thoroughly. Wash it, put a little polish on it to make it shine, it could make a difference! The buyer's eye will immediately be more flattered if he has the impression that your bike is almost new.

Ideal to distinguish your ad from others and optimize your sales chances.


TIP 3: MAKE THE NECESSARY REPAIRS

Even if it requires a small investment, it is a good idea to replace worn or end-of-life parts on your machine before selling it. This will allow you to substantially increase the selling price and leave very little negotiating room for the buyer. Often, it is a profitable calculation that allows you to kill two birds with one stone: sell your machine at a better price, reassure the potential buyer and at the same time avoid possible problems (especially if he is not a handyman).

Remember that the buyer has a legal withdrawal period of 7 days, and can even take legal action against you if he feels he is being misled or if you have sold him a machine that does not comply with the advertisement.


TIP N°4: TAKE THE TIME TO WRITE YOUR AD PROPERLY

Put yourself in the shoes of a potential buyer: you browse the classified ad sites looking for the rare gem. You find some of them that meet all the criteria and are likely to interest you... Of the 5 ads selected, there is one that stands out negatively by an untidy writing and photos not very flattering. You can be sure that the buyer will not contact this seller.

Many buyers pay close attention to the content of the ad: the more details you provide and the more information you provide to the potential buyer (exact make and model, mileage, model year, equipment and options, how you used it, first or second hand, maintenance invoices and last revisions...), the more confident the buyer will feel because he has all the elements in his possession. The more clear, explicit and detailed your ad is, the better.

Also remember to pay attention to spelling mistakes: read it several times if necessary (an announcement full of mistakes could suggest a certain amateurism, or even a lack of it on the part of the seller).

Finally, the icing on the cake: take beautiful pictures. The photo is the first thing the user will see when browsing through the ads. Go to a place that highlights your machine, with optimal lighting and background, choose a flattering angle and take at least ten shots. Post several on the ad, so that the potential buyer can admire the beauty from all angles. Nothing like it to make his mouth water.

TIP N°5: BRING THE NECESSARY DOCUMENTS FOR THE SALE

To make it easier for you, here is the list of documents you will need to have in your possession during the sale:

- Certificate of transfer of vehicle (also called certificate of sale) in 3 copies: one for you, one for the buyer and one for the prefecture.
- Certificate of administrative status (also known as a non-pledge certificate)
- For the buyer: an application for vehicle registration, an identity document and a gas/electricity bill or insurance certificate
-The maintenance booklet and invoices: their function is to reassure the buyer by showing him that your motorcycle has been properly maintained. This will demonstrate your seriousness and give the buyer confidence.
- The official user guide provided at the time of purchase: although it is increasingly rarely used, it still has a symbolic value to buyers, who often consider it a "bonus".

One last thing: don't forget to give the buyer the duplicate keys as well as if you have one, the keys of the U or the disk block.


TIP N°6: TAKE A TOUR OF THE LOCAL PROFESSIONALS

It is not impossible that the dealer from whom you purchased your motorcycle or scooter may agree to take it back from you. If not, it may be another dealership, a garage or even a deposit sale. With this method, you reduce the risk of running into a "Sunday tester" as much as possible and you save time! On the other hand, since the trader will want to make a margin, the purchase price may be lower than by selling between individuals.

TIP N°7: DON'T BE IN A HURRY

One of the worst things to do is to sell something in a hurry and accept the first offer that comes along. Do not show any signs that would suggest to the buyer that you have any constraints (time or financial). Try to do it as far in advance as possible and you will not be forced to give in to the first offer you receive.

Who knows, you could miss an even better offer!


TIP N°8: THINK ABOUT THE EXCHANGE
If you don't need new money, why not offer to exchange your vehicle for another two-wheeler, a car or even something else altogether? Bartering is becoming more and more popular and often provides good services. Specify on your ad what you would be interested in exchange and let the proposals flow in. Even if you are not thrilled at first sight, the exchange often turns out to be a pleasant surprise for both parties. Try it! Try it!

TIP N°9: PROTECT YOURSELF AGAINST SCAMS
We have put together for you the best tips to protect you from malicious people. They do not 100% guarantee your security, but they will nevertheless considerably reduce the chances that the transaction will turn into a scam:

- For the payment method, use a cashier's cheque. It is the least risky, as long as you call the buyer's bank and check that the cheque is not a fake. Also, refuse the "Western Union" mandates that are widely used by scammers.
- Do not send a copy of your vehicle registration document to the buyer: he could easily use it for unhealthy purposes. Use the oral route for sensitive information.
- When the buyer tests your vehicle, keep his driver's licence and, if possible, one of his identity documents with you. Give them back to him when the test is over. For the place, choose a frequented place to protect yourself as much as possible from any aggression. The ideal is even to be accompanied.

By following all these tips, you will be ready for a successful sale!