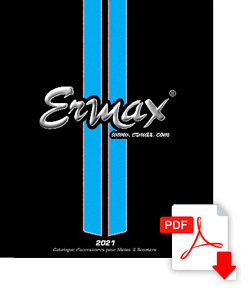 A POWERFUL TWIN-CYLINDER ENGINE

The most striking feature of the CBR 500 R 2019/2022 is its twin-cylinder engine, which provides dynamic acceleration at 0-100 km/h, as well as a six-speed gearbox at high engine speed. It generates 47.5 horsepower at 8600 rpm. Its maximum torque of 43 nm at 6500 rpm offers good acceleration recovery and the possibility of winding.

In addition, CBR engines have a limited slip clutch that facilitates gearshifts and prevents the motorcycle from locking the rear wheel in case of jolts.

Thanks to a fuel-efficient engine, the 16.7-litre capacity tank gives this bike a range of around 420 km, which is in the upper average of the category!

A BOLD AND RESOLUTELY SPORTY DESIGN
The sporty design is inspired by the look of its big sister, the CBR 1000 RR. The handlebar below the upper deck and the LCD dashboard with inverted display give a very sporty forward view and allow you to optimise the control of the machine as much as possible.

Its design also maximizes handling at high speeds. Indeed, the engine is close to the pivot point of the swingarm for more efficient handling. The 785 mm seat is very comfortable. You will feel like you are flying over the road.

Another highlight of this CBR 500 R 2019/2022 is that the front of the bike is equipped with a customizable backlit LCD display (the rider can see all the information clearly and concisely at a glance).

As far as suspensions are concerned, they are adjustable and allow easy movement on the motorway as well as on windy roads. The 41 mm telescopic fairing will absorb road shock to increase the life of the engine and frame.

EQUIP YOUR CBR 500 R 2019/2022 WITH OUR EXCEPTIONAL ACCESSORIES
Ermax is one of the leading brands of accessories and equipment for motorcycles and scooters in France. You can customize your Honda CBR 500 R 2019/2022 motorcycle to the maximum thanks to our many Ermax accessories: nose fairing, seat cover, rear hugger, undertray, plate holder, LED indicators giving a top-of-the-range touch.

Ermax offers you a catalogue composed of multiples of motorcycle equipment and accessories in stock for your CBR 500 R two-wheeler: fairing pieces, screens available in different sizes and colours, and various other accessories (turn signals, extenda fenda...).

An installation kit will be delivered with some accessories and will help you to install them easily. Feel free to contact us directly if you have any questions!
*
Selling cheap Ermax accessories for Honda CBR 500 R 2019/2022
Years of construction for this CBR 500 R 2019/2022 model of Honda motorcycle: 2019, 2020, 2021, 2022
motorcycle enthusiasts are also interested in these customization accessories: