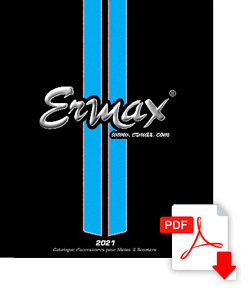 Regular price

€52.50

-20%

Price

€42.00

Ermax headlight sport fairing for CB125R 2018/2022 - CB300R 2018/ 2021
LA HONDA CB125 R 2018/2022 : A SEXY 125 WHO INTENDS TO WIN THE BET!
We've been waiting for a long time for Honda to finally release a 125 that can rival the stars of the segment (Yamaha MT-125 and KTM Duke 125 not to mention them). Moreover, since 2017, the market has expanded significantly as the segment has seen the emergence of excellent machines such as the Aprilia Tuono 125 or the Suzuki GSX-S 125. In other words, the task ahead is going to be tough for Honda and the CB125 R 2018/2022!

The first thing that is obvious about the CB125 R 2018/2022 is its "Neo Sport Café" style: its round front lens seems to be encircled with aluminium. The bodywork is generous since the scoops and the belly pan are particularly enveloping. But Honda does not only do retro, since this CB125 R is equipped with full LED lights and purely impeccable finishes: twin 5-spoke wheels, aluminium foot plates... Honda has combined the best of the old and the new in this new CB 125R.

A breathtaking style combined with the know-how and experience of Honda engineers, all for a price lower than that of the Yamaha and equivalent to that of the KTM... the little Honda is enough to scare its competitors!

HONDA CB300 R: THE COMBINATION OF FUN, SPORTINESS AND EASE
This new Honda CB300 R 2019/2021 is a seductive new Honda: with its lightweight gauge, close to that of a 125, and its 143 kilos , this new CB300 R is very affordable and easy to handle, especially for beginners and small riders. Its seat height of only 799 mm also has a lot to do with it! Manoeuvring it is child's play, and overall it is a very reassuring machine that wants to be accessible to as many people as possible.

Its Neo Sport Café style, very inspired by that of its big sister, the CB1000 R, is not consensual. Here again, as for its little sister, the CB125 R, the finishes are impeccable and Honda has not skimped on the means: brushed aluminium style scoops, Showa inverted fairing, radial front brake caliper, complete digital dashboard... in short, it is as pleasant to drive as it is to watch!

Finally, the driver can have a good time with the punch of the 31.4-horsepower single-cylinder block. Accompanied by a very lightweight bicycle part, the CB300 R 2019/2021 is a real bike!

ERMAX PARTS AND ACCESSORIES FOR HONDA CB125 R 2018/2022 AND CB300 R 2019/2021
Do you want to customize your machine? Ermax offers you to improve its look and protection with a wind screen that can be completely customized to your taste! Available in several colours, from Brut Black to Pearl White, from Candy Metal Red to Brushed Aluminium, you will inevitably find something that will give your bike a unique touch!

Feel free to consult the customer reviews directly on the product sheets or contact us if you need more information.

Selling cheap Ermax accessories for motorcycle Honda CB 125 R / CB 300 R 2018/2022
Years of construction for this CB 125 R / CB 300 R 2018/2022 model of Honda motorcycle: 2018, 2019, 2020, 2021, 2022
Motorcyclists have also been looking for these years: 2017
Motorcycle tuning accessories for Honda CB 125 R / CB 300 R 2018/2022:
cb125r 2019
cb 300 2018
cb300 2018
motorcycle enthusiasts are also interested in these customization accessories: