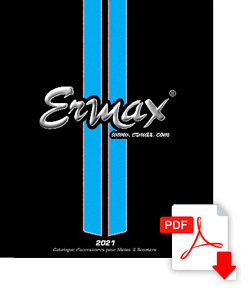 THE HONDA CB1000R 2008/2017: A UNIQUE, UNCOMPROMISING DESIGN
Honda's CB1000R is truly a UFO in its class: its ultra-muscular style does not look like lace and makes it easy to spot at a glance. Direct heir to the famous X11, which was already in the news 20 years ago for its style, which was also ahead of its time: a wide and muscular front end, a powerful engine derived from sports cars, the round headlight and a slender and sleek rear end. We love or adore this particular aesthetic: what is certain is that the Honda CB1000R like the X11 of yesteryear leaves no one indifferent.

Honda has taken the challenge of originality to try to stand out from its competitors (BMW S1000R, Yamaha MT-10 and Kawasaki Z1000R in particular) and has emerged from political correctness. The style is generally quite "eye-catching", the design is very aggressive and is resolutely sporty with a rear rim mounted on single arms, an arch-reduced rear part and a front headlight as well as sharpened sharp sides.
A RESOLUTELY SPORTY ROADSTER
With its "all forward" driving position, a particularly thin and compact rear loop, the CB1000R puts its driver in the spotlight. The use of aluminium on the rear part as well as the presence of a plate holder on the swingarm and brushed metal pieces further enhance the bike's style.

The LED lighting and the special shape of the headlight at the front give the CB1000R a look worthy of its rank.
The technical side is not to be outdone: on the engine side, Honda has chosen a 4-cylinder engine (based on the FireBlade) with a power of no less than 143 horsepower and 104 Nm of torque for the 2017 version. The torque varies between 6000 and 8000 rpm. The gearbox has also been improved, with gear ratios reduced by 4% to increase acceleration rates to 130 km/h. The clutch system has also received special attention: equipped with an assisted sliding system, it is very soft and pleasant to use.

Like any good top-of-the-range roadster, the CB1000R has different driving modes (Rain, Standard and Sport) that the driver can customize as he wishes. Showa suspensions, the SFF-BP inverted fork and the fully adjustable front single shock absorber guarantee agile and sporty handling for this war machine.

HIGH QUALITY ERMAX ACCESSORIES
Ermax offers a wide range of accessories to enhance your Honda CB1000R 2008/2017, including a sports wind screen, which will improve the aerodynamics and look of your bike as well as your protection (in case of projectiles on the road). The Hurric Pro 2 exhaust system will give your bike an even more racing look. Finally, the engine shoe and seat cover will further enhance your bike's sporty appearance and help protect against possible impacts!

It would take too long to detail them all here. There are only advantages to equipping your machine with Ermax accessories and parts, which are mostly entirely customizable according to your tastes!
Selling cheap Ermax accessories for motorcycle Honda CB 1000 R 2008/2017
Years of construction for this CB 1000 R 2008/2017 model of Honda motorcycle: 2008, 2009, 2010, 2011, 2012, 2013, 2014, 2015, 2016, 2017
Motorcycle tuning accessories for Honda CB 1000 R 2008/2017:
ermax cb1000r 2012
cb1000r ermax 2013
honda cb1000r windscreen 2016
motorcycle enthusiasts are also interested in these customization accessories: